Artist Statement
I am a Fine Artist educated in Russia and in Britain. My main themes are landscapes and townscapes. I greatly enjoy working outdoors as it gives me the opportunity to develop suitable compositions and experiment with light conditions.
In my work I am always searching for beauty. Whether I am painting an awe-inspiring view in Venice or overgrown nettles outside of my village, both these subjects attract my interest in an even way. I am trying to capture a unique moment of life, which on its own is telling a story.
My inspiration comes from nature as well as such artists as J.M.W. Turner, Kyffin Williams, Claude Monet and a number of Russian painters including Valentin Korovin and Vladimir Stozharov. Their passion for colour, loose painting technique and an ability to capture the moment fascinate me over and over again.
I am also interested in painting 'portraits' of things and places. A painting of a stone wall or a Welsh cottage or a path running through the valley to a high lake are as dear to me as could be a portrait of a dear friend.
I have exhibited my work at the Annual Exhibition of the Royal Society of Painters in Water Colour, the Royal Society of Marine Artists and the Annual Exhibition of Society of Women Artists at the Mall Galleries in London, the Royal Society of Birmingham Artists and many other British Galleries.
Contact me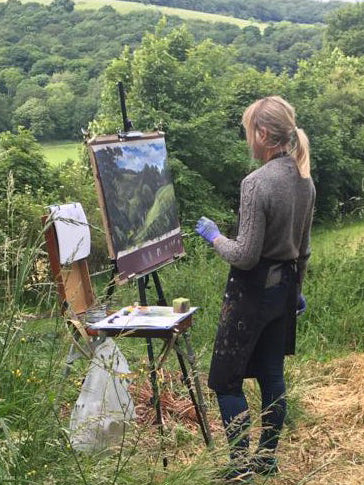 Working Method
The whole experience of plein-air is an ideal working environment for me. I start by investigating the area on my bicycle, noting the places of interest and making quick sketches. The next will be to come back to the selected spots and to produce a number of preliminary watercolour studies and take additional photographs. After that the collected material matures and expands in the studio.